Leading Email & CRM Agency
Wavebreak is an email & SMS marketing agency for DTC and enterprise brands.

We maximize revenue as an extension of your team with data-driven strategy, on-brand email creative, flawless execution, development, and advanced reporting.
The ecommerce email marketing agency built to elevate and support leading brands.
At Wavebreak, everything we do is optimized to help brands maximize long-term revenue growth with advanced email and SMS marketing services.
From high-growth DTC startups to publicly traded enterprise brands, the clients we work with continue to grow and thrive.
Our proven strategy combined with our data-driven creative maximizes your brand's potential revenue from CRM and lifecycle marketing.
CRM has never been more vital for the health and sustainability of your marketing.
We partner with you and your team to develop, advance, and execute your program from end-to-end.
Best-in-Class Lifecycle Marketing
Wavebreak specializes exclusively in Email and SMS Marketing. Our strategies and tactics have been tested and proven across 100+ leading brands. Whether we manage your entire program or just a key component of it, our focus is maximizing revenue and engagement while maintaining a seamless workflow with your team.
Stop emailing like it's 2008 — or even 2021 — at Wavebreak, we overhaul and optimize your email marketing program for what best-in-class is today. We optimize your program from the ground up, aligned to your unique brand and customer journey, testing aggressively to find what works and what doesn't, across automated email flows and your ongoing weekly email campaigns.

When executed properly, SMS marketing is a powerful channel for brands. We strategize and create hyper-targeted SMS campaigns and flows that connect with customers — without "annoying" them. At the same time, we take a holistic approach to ensure your SMS program is aligned with your email marketing strategy.
With proven strategies and our unique methodology for every core flow, including welcome series, quiz flows, abandoned cart and browse, win-back, retention, cross-sell, and more, we'll help you get the most out of your program. 
We'll guide your brand through CRM calendar best practices, record-breaking Black Friday campaigns, high-performance product launches, and ultimately find the optimal cadence and segmentation strategy for your exact audience. 
Your Full Service Email & CRM Partner
Advanced Email & CRM Strategy
Email, SMS, and everything lifecycle marketing to help you maximize revenue, retention, and customer experience. Our programs and email/SMS calendars are based on data and built to your specific brand and customer journey. As your trusted partner, we'll meet with you weekly and communicate daily to align on strategy and execute.
Creative & Implementation Solutions

Get the best of both worlds with our premium email design services. Our designs are not only visually stunning and always on-brand, but they're also expertly crafted to convert your subscribers. Increase click-through rates maximize conversion rates with our mobile-first email designs.
Stand out in the inbox with our carefully crafted email copywriting. From subject lines that stand out to headlines that pull you in, our team knows how to build your brand, educate your subscribers, and empower them to convert.
Email Coding and Implementation
From advanced email coding to thorough quality assurance, our team is dedicated to delivering best-in-class emails that look great in every email client and perform even better. Our team can handle everything from start to finish. 
SMS Design and Implementation
Looking for a personalized SMS marketing program that aligns with your email strategy? Our SMS programs delight customers and keep you ahead of the competition. From SMS design to implementation, we've got you covered.
Ongoing Testing, Optimization, and Reporting
Our long-term clients see the benefits of our ongoing testing and optimization, with compounding gains that keep their programs ahead of the curve.
A/B Testing and Optimization
We believe that there is always room for improvement in your email marketing program, and we're committed to finding it. Our team is dedicated to testing and optimizing every aspect of your program, from send times and subject lines to email/SMS cadence to creative and beyond.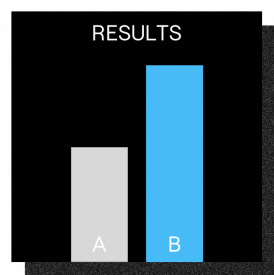 Advanced reporting capabilities provide valuable insights into how your program is performing. We create custom reports that give you a comprehensive view of your program's success, with analysis and recommendations for continued improvement and scaling.
Wavebreak clients generate significantly more revenue, increase lifetime value and repeat buyers, and elevate their brand through exceptional creative.
Casely sees 208% 
increase in email
revenue
One of the fastest growing ecommerce brands in the world, Casely came to Wavebreak on fire. Email though? It was a bit of an afterthought. That was, until they brought on our team.
We would not be where we are today without Wavebreak. They helped us double our revenue from email and allowed our lean team to focus on other parts of our business.
Mark Stallings
Co-founder & CEO, Casely

Ballsy

Triples Revenue

From Email
Before Wavebreak, Ballsy worked with other agencies who couldn't deliver and match their unique brand and voice. That all changed when within four months our team:

Brathwait Watches:

Increased

repeat customers by

54%

​
Email was a lot of work for Brathwait's in-house team to keep up with, so they hired a team of experts to manage it for them. Within 90 days, we turned email into a consistent, top performing channel ultimately driving:

CaliWhite

scales Email and SMS

into Top DTC channels
CaliWhite sits in a highly competitive space, with top selling QVC and Amazon products. And so when they decided to scale their DTC business, they brought us on to showcase their products through email and SMS. Since then, both have become top marketing channels for their direct-to-consumer business with results like:
INDUSTRY-LEADING PARTNERSHIPS
Through partnership with the best of the best in in lifecycle, we collaborate to bring proven strategies and solutions to help brands thrive.
Get direct access to our library of exclusive partner resources.
Learn from other marketing leaders every week on the
Wavebreak Podcast
.
Get behind-the-scenes strategy and insights from over 250 interviews with leading brands. Hosted by Dylan Kelley, Founder and CEO of Wavebreak, new episodes every Monday.
Subscribe and listen
to our latest episodes.
We'd love to tell you more about us and learn how we can help.